Titan Plus
is rated out of
5
by
9
.
Grow in comfort
From approx. 9 months up to 12 years
9 - 36 kg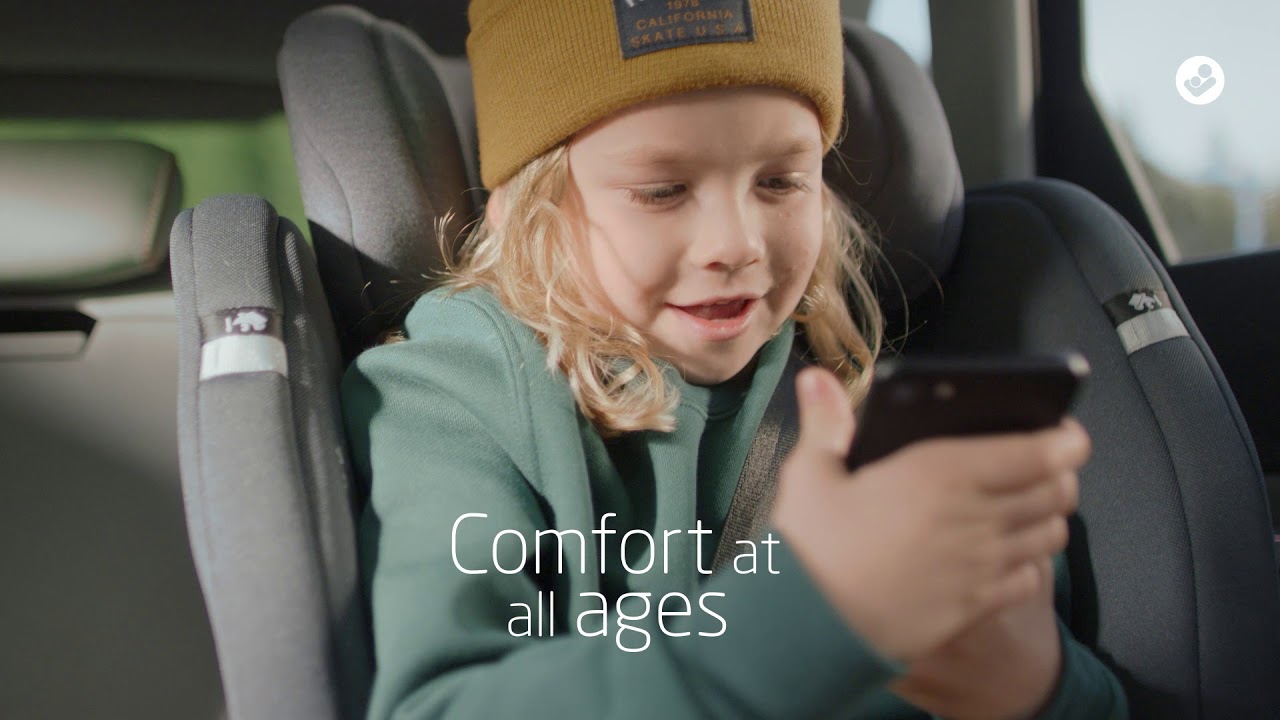 Product description
One car seat for all the comfort kids will need at any age! Our long-lasting Maxi-Cosi Titan Plus car seat ensures that your children are always comfortable whether they are 9 months old or 12 years old. The car seat comes with extra padding in the areas that matter most.
Installation
Connect your Titan Plus to your car using the ISOFIX anchor points of your car for an easy installation. We have also designed a top tether strap as a third anchor point to provide your little one with an even more secure connection. Check the user manual or read our check list for correct ISOFIX installation.
When our comfortable Titan Plus is used as a Group 2/3 car seat (after 4 years), ISOFIX and top tether are optional as you will then use the vehicle safety belt to secure your child.
The indicators on ISOFIX anchorages will confirm correct installation, meaning you will have an extra peace of mind before you set off!
Safety
At Maxi-Cosi we have carried over 50 million babies home from the hospital. For us, your child's safety is the top priority.
The ISOFIX and top tether of Titan Plus offers great stability for this car seat, even when your child is not sitting in it. The indicators on ISOFIX anchorages will confirm correct installation for an extra peace of mind!
Additionally, Maxi-Cosi Titan Pro features a 5-point safety harness to keep your growing child safe and stable all the time.
When it comes to safety, we have got you covered!
Titan Plus: Grow in comfort
The very best for your children while you're on the go! Whether they're 9 months or 12 years old, the Maxi-Cosi Titan Plus ensures that your children are always comfortable.
Our Group 1/2/3 car seat is first used with a comfortable inlay for a perfect fit and a 5-point safety harness to fasten your little one. Beginning from the age of 4, it can be used as a Group 2/3 car seat that uses the regular 3-point car seatbelt.
This multi-age car seat comes with extra padding in the inlay, headrest and sitting area to keep your little one comfortable all the time.
Designed to be used for many years, our multi-age car seat is equipped with ClimaFlow, which ensures children are kept at the right temperature. Thanks to the backrest's special pattern and foam, the Titan Plus contributes to a good air circulation and makes sure your children don't grow too warm or get too cold on the journey.
For an easy installation of your child, the Titan Plus features a pair of belt hooks on the sides that keeps the harness open when you help your child into the car seat.
Titan Plus is designed to be used from 9 months to 12 years old; that's why it comes with a toddler inlay to provide the best fit when your baby is little.
In addition, the five recline positions of this comfortable car seat ensures the most comfortable position for your child all in circumstances.
On the road, snacks or drinks may not always end up where they are supposed to. Or your little one may get car sick. No matter what happens, we are there for you as Maxi-Cosi's car seat cover is machine washable and can easily be removed.
The Maxi-Cosi Titan Plus. Grow in comfort.
Rated

5

out of

5
by
MRSMCULLEN13
from
Well designed car seat!
We got this car seat for our 3 year old son. He is a slim boy so set it up as stage 1 initially but we were quick to realise that he was too hard to buckle up. So we changed it to stage 2 and we were very impressed with how easy it was to change. Remove a pad and then hide all the straps within the seat itself. We also really like how easy it is to move in and out of the car using the isofix and the recline feature is great for when he falls asleep on the car journey. The car seat also has a very sleek design and is quite compact making it easy to fit 3 car seats side by side. Would highly recommend.
Date published: 2020-09-01
Rated

5

out of

5
by
Emizacmoo
from
The perfect seat that grows with your child
Must say this product has exceeded my expectations. It's a really good investment with it being suitable from 9 months to 12 years. Love how soft the fabric is and the insert too. Found it very easy to install into our vehicle. My daughter has been using it for the last few weeks and it's comfy and easy to adjust the straps as they grow. Really like the recline feature which enables the seat to recline slightly if little one falls asleep. The climate control was also something that interested me and with the weather being so changeable at the moment , I'm assured my child is not too hot/cold. I'm overall very impressed with the quality and comfort that this seat offers - highly recommend
Date published: 2020-08-31
Rated

1

out of

5
by
Stressed
from
Fix the belts they are so short!!!!!!!!!
We find the belts very short. Daughter gets in very difficult, even with the straps on the widest position, it hurts he! She is in the first group because her weight is 12,5 kilos. The 'loops' to 'park' the hooks of the closure are nice, but do not work optimally. For me, this chair is therefore returned and we are looking for another alternative.
Date published: 2021-01-23
Rated

5

out of

5
by
IVSD1864
from
Great product!
I have been using this carseat for almost a week now after having a similar car seat for my baby. This carseat provides plenty of support whilst my child naps during car journeys.
Date published: 2020-07-03
Rated

5

out of

5
by
BeckyN91
from
Car seat
I absolutely love this car seat. It's very well built and fits so securely in the car with no movement at all. It's easy to install and my 17 month old fits nicely. Some car seats we have used previously she has looked very squashed but had plenty of room in this one to grow. The straps are a little stiff to tighten up but other than that I would highly recommend this car seat
Date published: 2020-08-28
Rated

5

out of

5
by
ClaireE123
from
Great seat for all small and older children
I am enjoying using this seat for my youngest child. It's a substantial and well made seat and treally easy to fit using the isofix points. The seat is comfy and my child enjoyed sitting in it and it felt safe for her. I like the fact that you can use it for a small child all the way upto age 12. Over all I think it's a great seat and I would recommend to others.
Date published: 2020-09-07
Rated

4

out of

5
by
MikeW
from
Great Next Step Car Seat
I bought this car seat as the next step after our Cybex baby seat and this is so much lighter and easier to set up. It feels more secure than a standard upright due to the tether that supports the top of the car seat to the back of the seat and gives you that extra bit of comfort. The materials are soft and well padded so the children are comfy at all times and the instructions are good at telling you how to adjust the need to each age group (although some words wouldn't go a miss as its all picture based). I found it very easy use every day, the harness is secure and easily adjusted and the padding can be removed easily for when the move onto the next stage and The only downside over the Cybex is that it doesn't have a rear facing mode for younger children so I wouldn't use it for our child if he was any younger (2yrs now) and also I missed the rotation of the Cybex but this was going to happen with any car seat. Over all I am very impressed and would recommend.
Date published: 2020-07-08
Rated

5

out of

5
by
Erika
from
Extra easy installation
We absolutely love this car seat! We had 2 Maxi Cosi Titan and upgraded it to Titan Plus. I have to say my favorite feature is the slight recline of this seat. I'd prefer slightly more reclining angle, but unfortunately there are only few of the car seats offering this option and it is not Maxi Cosi. When sleeping, my daughter's head rarely drops forward, so it is way more secure than sleeping in the upright booster. She sleeps comfortable and safe. My friend saw how great that feature was and ordered one right away for her 4 year old daughter too. We love to travel during kids naps, so car seat's reclining option was the most important part. The other one that I like is the ISOFIX. No more dance around the car strapping in the car seat, passing it through difficult to reach points and anchors, securing it tight. Just 2 clicks and you're good to go! First time installation took me good 40minutes as I couldn't get those clicks! since I've realised the way to do it it takes only about 5 mins. Bear in mind that car seat itself is heavy enough, so it might be difficult to swap the cars!
Date published: 2020-07-11