Time for bed : a good night sleep for your baby
With night feedings, a reversed night/day rhythm and stomach cramps, those first months will keep you up at night. Using the essential baby equipment is the first step of getting through this hectic and possibly exhausting period. A co-sleeper is one of those essential baby products for these moments. It allows you to easily pick up you baby, while staying in bed, for night feedings, a tummy massage or just soothing cuddles to calm your little one down. When you are ready for staying overnight somewhere or when your child is staying overnight at family or friends, you want your baby to experience the same comfort as you have at home. Our travel beds are a great way to create comfort just like at home, away from home. Whether your little one is still little or when they are already toddlers, all our travel beds come with different levels to support your baby comfortably every age. Looking for a bed that matches your needs, find all our best options below:
Maxi-Cosi Iora Air: There by your side
Having your newborn home, is such a special time. The Maxi-Cosi Iora Air is an extra-comfortable, soothing co-sleeper, designed to keep your baby close and deepen that special bond. A sumptuously thick mattress will provide all the comfort your little one needs. And for the more challenging nap times, a handy rocking-function will help soothe your baby back to sleep. Made with super-soft, premium, 100% recycled fabrics, the Iora Air features an all-round, breathable mesh fabric. And a large storage basket underneath ensures all your baby essentials are within reach, for around-the-clock care.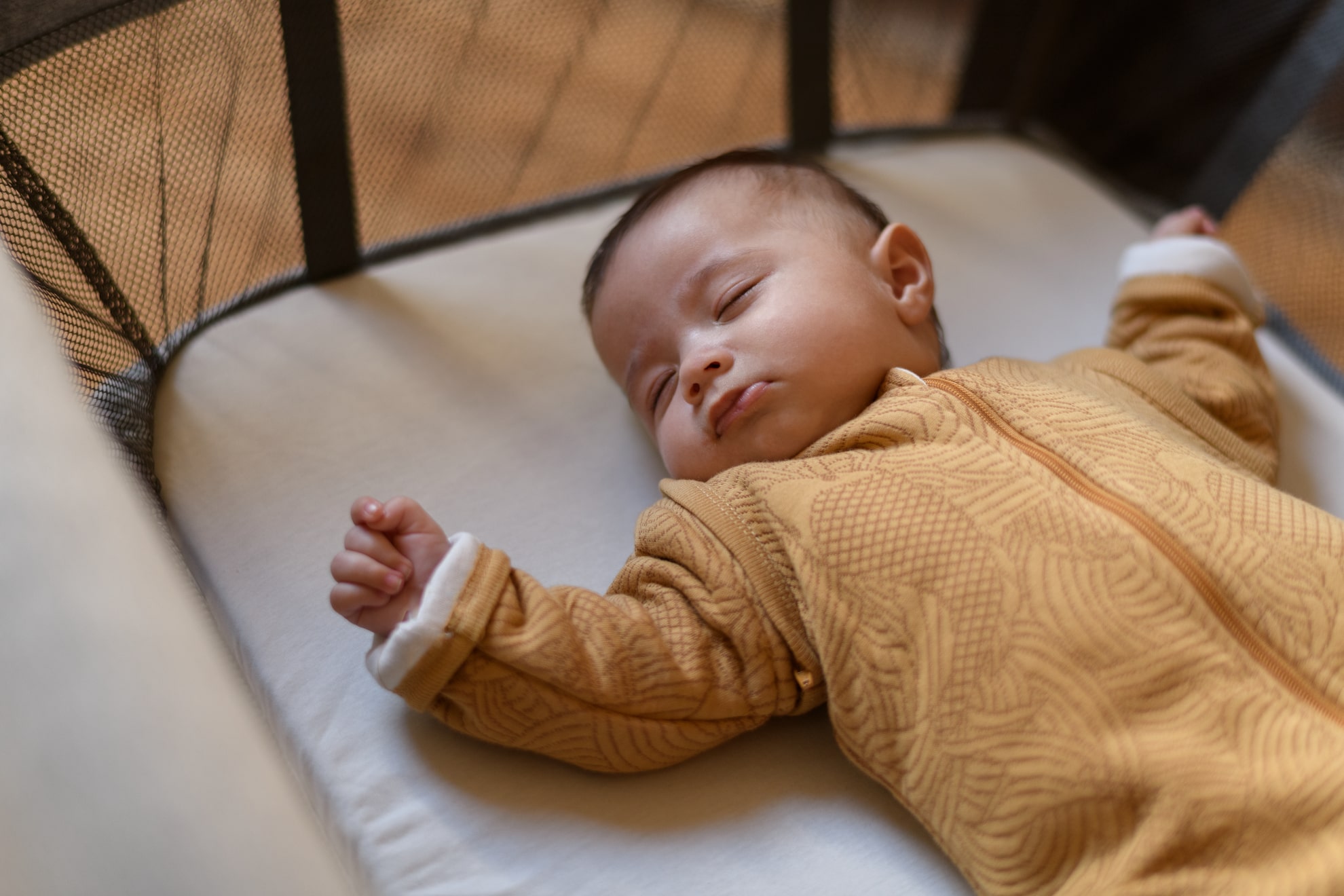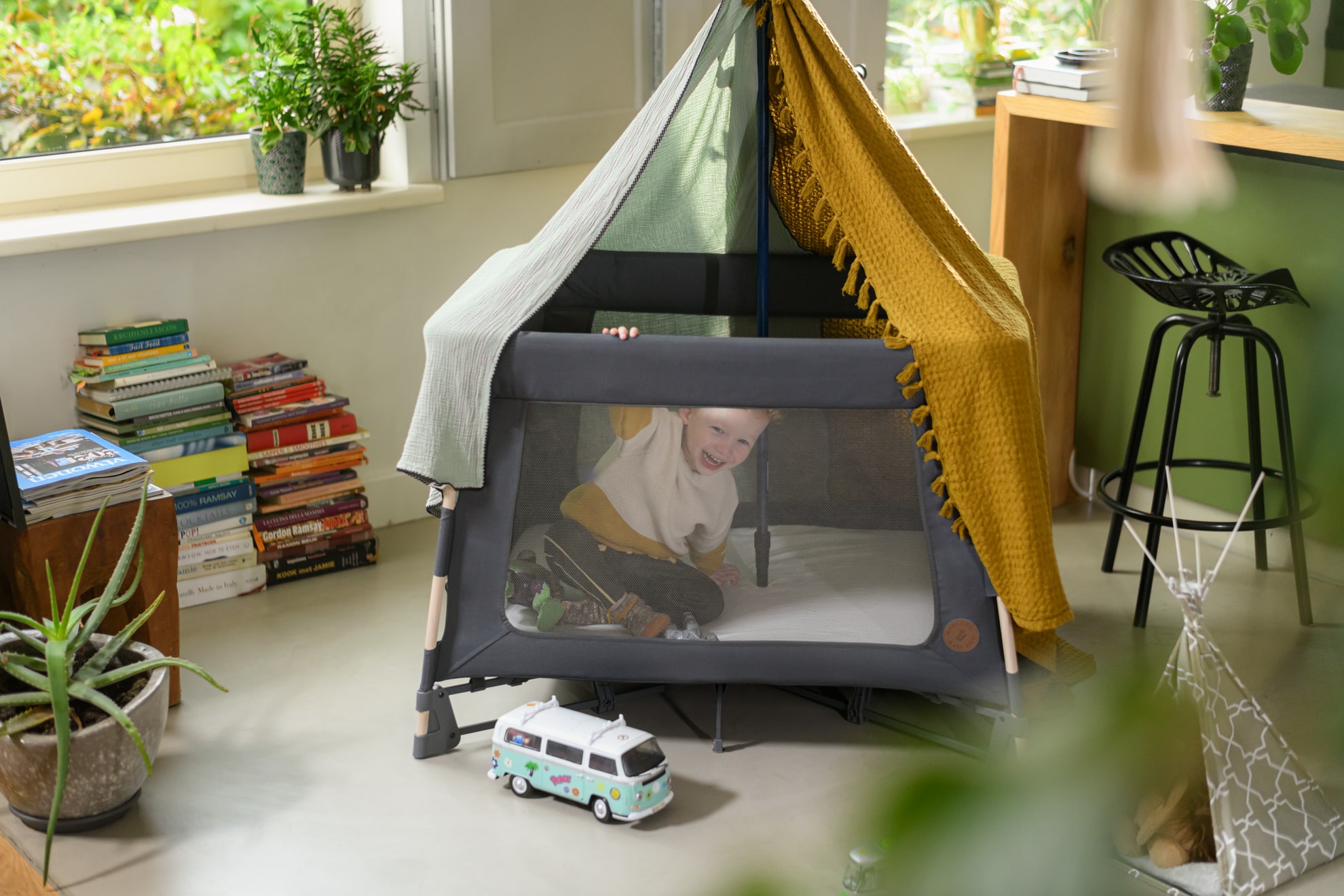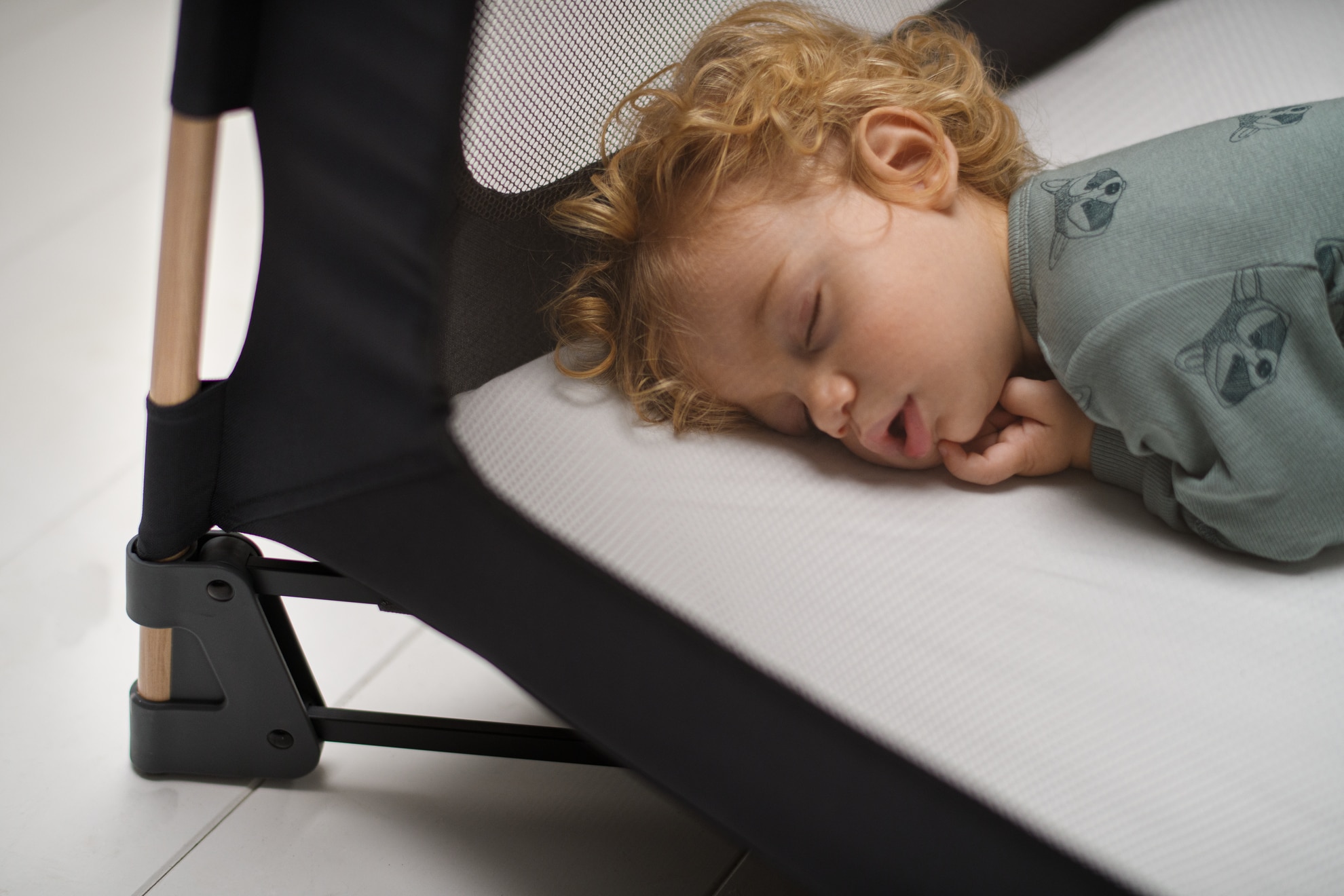 Maxi-Cosi Swift: Play. Sleep. Repeat.
Daily routine is the backbone of family life. Play time, nap time. Then do it all again. And you want to keep your daily routine going, even when you are not at home. Not a problem with the Maxi-Cosi Swift travel cot: just pack the lightweight travel cot into its handy carry bag and take it with you on days out visiting friends and family, or on any weekend away. Everything about Maxi-Cosi Swift is designed for speed and ease of use. Its smooth one-step fold is so quick and easy, you can even do it one-handed. Just one swift action and you can simply get on with your busy day. Maxi-Cosi Swift grows with your baby from birth with a special new born level, through to 3.5 years of age with a lowered toddler level! Maxi-Cosi Swift is a portable bassinet, a toddler cot and a play pen, all stylishly rolled into-one.
Maxi-Cosi Tori: Designed small for living big
When you're sharing your room with your newborn, you want a compact co-sleeper that's designed to maximise space. Ultra-compact and lightweight, the Maxi-Cosi Tori is designed to be easy to use, as well as effortless to fold flat and store away when it's not in use. It's a stylish 2-in-1 bedside co-sleeper and crib. When you need to soothe, comfort and feed baby throughout the night, one side of the Tori simply unzips for quick and easy access when attached to the bed. It has removable and machine washable fabrics, so it's easy to keep clean too.
Maxi-Cosi Iris: Take sleeping to a higher level
Planning a sleepover or going for a longer holiday? No matter which one you go for, the Iris compact travel cot is the perfect travel companion. Whether you're travelling with a newborn or a toddler, you can adapt the foldable travel cot to your needs by raising or lowering the travel cot mattress base. It folds and unfolds easily and comes with a travel cot bag for easy carrying and weighs less than 6 kilos. The Maxi-Cosi Iris's extra comfortable travel cot mattress makes sure your little one falls asleep in no time. Whether it's an afternoon nap or sleeping through the night – they'll feel like they're sleeping on a cloud, wherever they are! The Iris compact travel cot is the best-looking travel cot out there. It's available in an elegant colour and comes with luxurious wood effect finishing.
Anxious for your first night at home with your new-born? Read all our best tips to help you prepare and enjoy that first night home!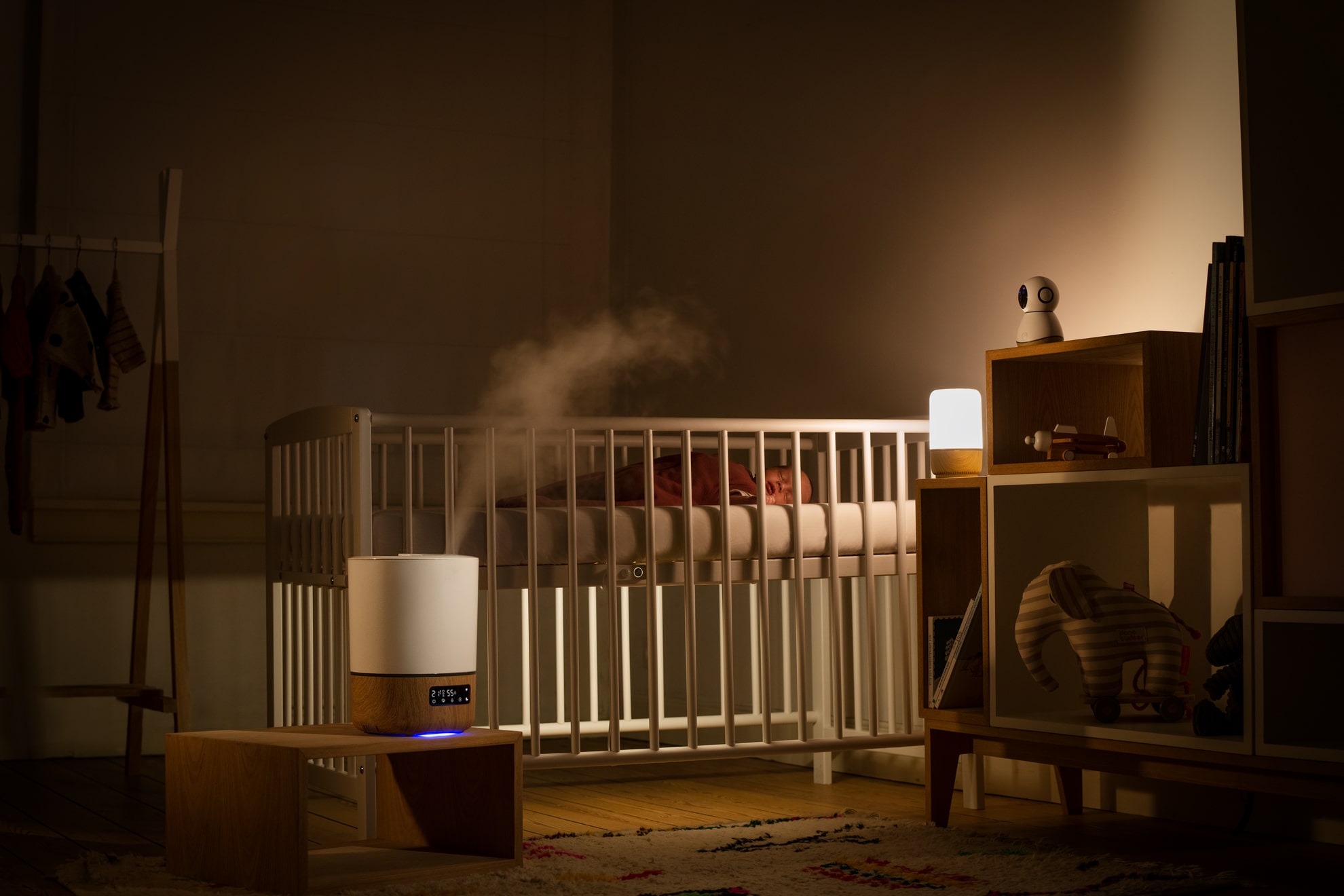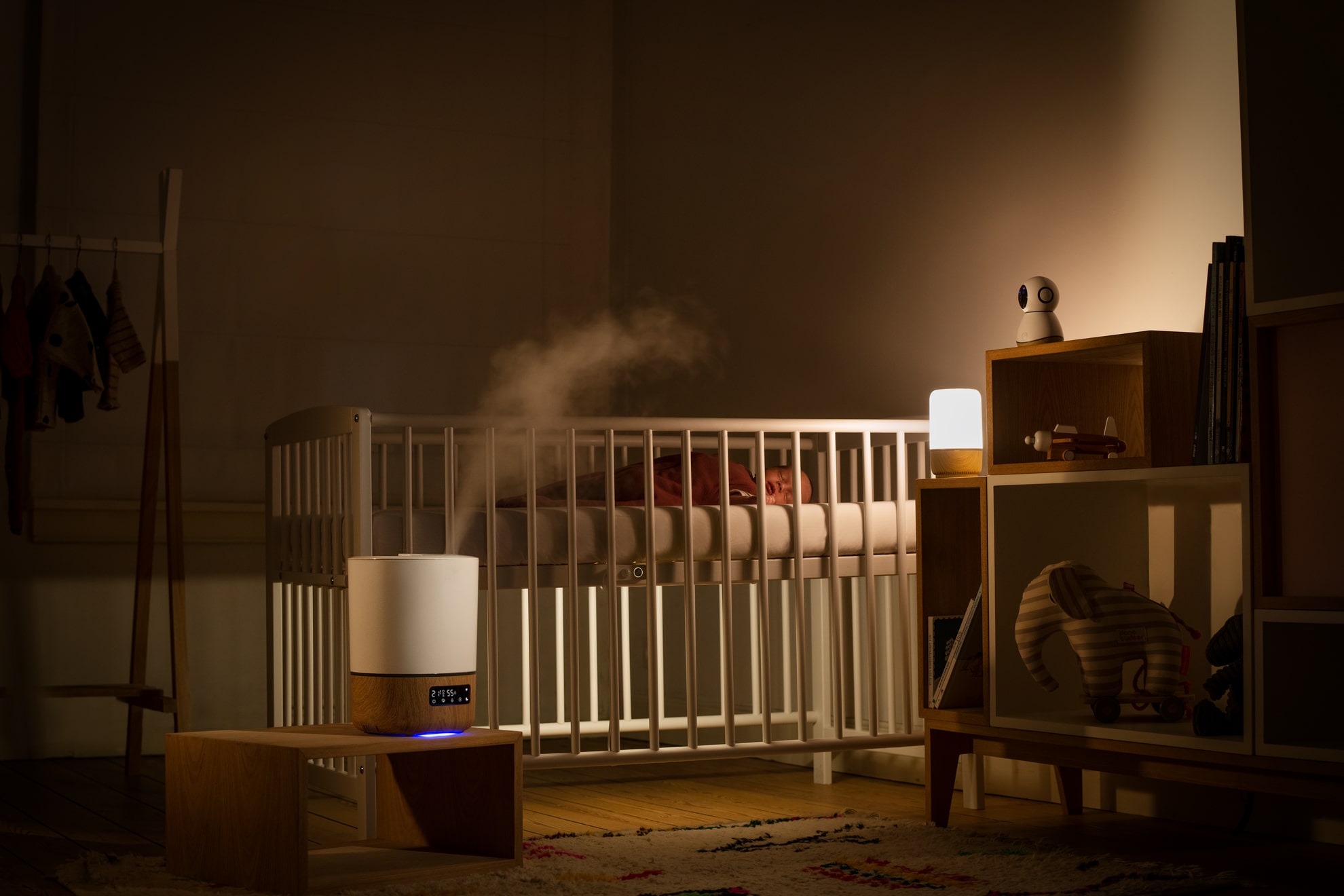 Always close, always together
When you feel it's time for your little one to move to its own room, you do want to stay connected and close. To make sure everybody has a great night sleep, use our Connected Home smart products help to create the perfect personalised nursery, while allowing you to monitor and customise when needed, all via one app. The range consists of a the Breathe humidifier for perfect temperature room, the Soothe light & sound for soothing lights, sounds and sleep-inducing lullabies, the Glow crib light for undisturbed check-ins and the See baby monitor that allows to monitor your little one in HD. All Connected Home products all contain smart technology, can be connected with each other and enables you to create personalized routines with them, with just one app: the Maxi-Cosi Connected Home app.